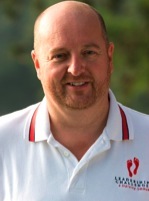 Age:  He has been a learner for 57 years
College:  BA, Glenville State College, Glenville, WV (1986)
Graduate:  MDiv, Northern Seminary, Lombard, IL (1999)
Married:  Judy
Children:  Megan & Kevin (son-in-law) & Logan and Colin (grandsons) and Sara
Personal Vision Statement: Live as a catalyst for transformation in myself, others, and churches; that brings us individually and collectively into a deeper life of discipleship and multiplication.
Mark W. Douglas is a pastor, entrepreneur, educator, preacher, speaker, consultant, and former church planter. Mark most recently served as pastor of Brighton Free Methodist Church, Zanesville, OH. In 2005 he formed Mark W. Douglas, LLC, and serves as President and CEO. Since 2013, Mark has served as Adjunct Faculty at two area colleges.
Mark is a lifelong student of cultural history and the emerging culture. He connects on a personal level with individuals with where they are in life. Mark sees people as unique individuals who have much to offer.
As Pastor of Brighton Free Methodist Church, Mark W. Douglas provided leadership to the community of faith. His preaching and teaching was Biblical, conversational and academically in-depth. He brings real life stories and practical examples to his messages.
Mark W Douglas LLC is a company with two distinct areas of expertise – 1) professional audio reinforcement, professional stage and theatrical lighting, and professional video projection and imaging & 2) mentoring and coaching.
Mark W Douglas LLC has provided extensive audio, lighting, and video expertise to local productions as well as national tour acts.
As a keynote speaker and workshop facilitator, Mark has engaged many audiences on a variety of topics. Using his visionary gift, Mark continues to help individuals, organizations, and agencies understand their unique vision and strategically position themselves to achieve their specific mission and vision.
Mark is in demand as a coach / mentor to numerous individuals, church leaders, and business leaders around the specific areas of spiritual formation, leadership and visioning. He helps individuals understand the emerging culture and how they can interact and influence the culture with a world-view that is based on the life and teachings of Jesus.
Mark W. Douglas serves as part of the Adjunct Faculty for Central Ohio Technical College teaching PHIL 100 – Critical Thinking, PHIL 150 – Introduction To Philosophy,  PHIL 200 – Introduction to Ethics, SOC 110 – Cultural Diversity. He also served as part of the Adjunct Faculty at Zane State Community College teaching THTR 1010 – Introduction To Theatre.
In addition to being a Pastor, a CEO / President, and a college educator, Mark –
Is an Eagle Scout.
Is the past ministry innovator for Church Wrights.
Is a graduate of the American Baptist Churches USA Church Planters Institute (and served on the faculty).
Is the past transformational architect for AboutFace.
Is the past producing director for Theatre Zanesville.
Served in many regional and national roles within the American Baptist Churches.